download Free Melody loops & matching midi
Delicious

Dance Pop Taster
#free #melody loops #synth stems #audio #midi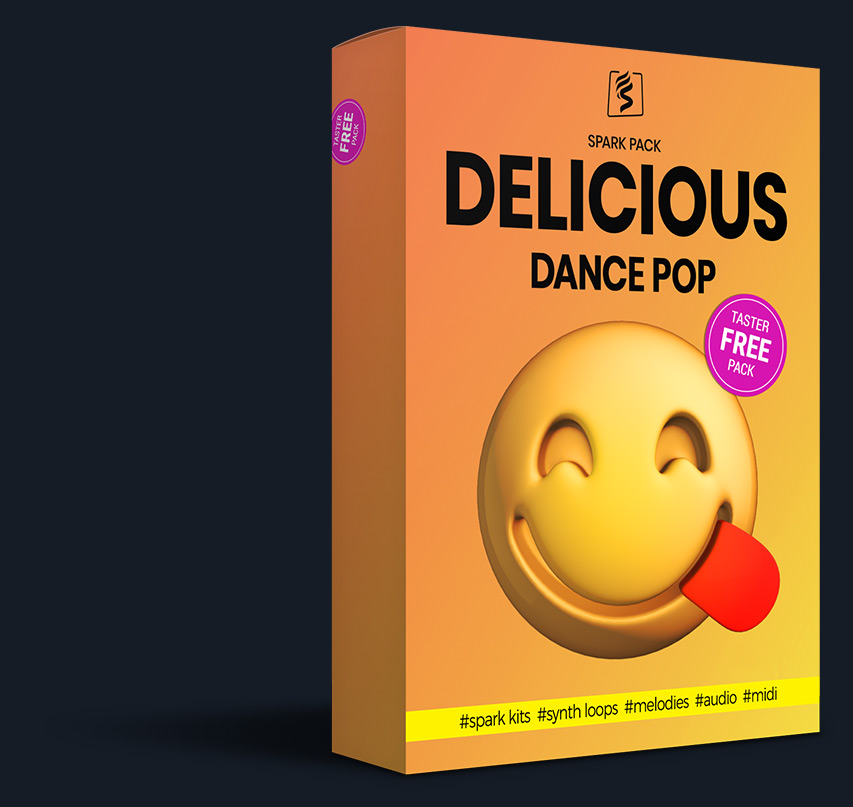 Free Spark Kit 07
This TASTER pack gives you full access to all melody loops and corresponding midi files included in Spark Kit 07. Choose from a flavorful pool of different chord and lead melodies, recorded with various synth sounds and play around with stimulating ingredients and distinctive options to build contrasting parts of your new track.
The main PREMIUM Delicious Dance Pop pack comes with 10 construction kits/song starters – I like to call Spark Kits. Each Kit is a collection of tasty melody loops and hit chord progressions that help you build your next dance pop banger.
Download your 26 free melody loops and 14 matching midi files for free below.
Free Taster – Spark Kit 07
Free melody loops in action
Let's have a closer look at Spark Kit 07 that comes with the free taster version of Delicious Dance Pop.
I've put together five demos by combining some of the Kit's elements.
Below each demo you'll hear a short snippet of the corresponding source material.
What's a Spark Pack?
I think of a Spark Pack as an inspiring collection of tasty melody loops and hit chord progressions
that help you build your next track.
Beyond being a sample pack it not only comes with AUDIO loops and stems but also with all the matching MIDI files.
Delicious Dance Pop is the pack to FIRE UP YOUR CREATIVITY and to KICKSTART YOUR SONGWRITING!
The Serum Add-on Sound pack
With the full premium version you can even go a step further and add the Delicious Serum add-on sound pack to gain access to all the original presets I used to build the audio material.
Total creative control
The big advantage of a Spark Pack and its add-on packs:
You have all the tools and resources at your disposal to go deep, take it from there and to MAKE IT YOURS!
Get total creative control and the freedom to easily make changes and re-shape the material according to your taste.
What's Inside
Details
Spark Kit (aka Construction Kit): 1
Audio Files: 26
Type: Melody Loops & Hit Chord Progressions
Format: WAV – 24bit – 44.1kHz / Windows & Mac
Genre: Dance, Pop
Matching Standard Midi Files: 14
Size: 101 MB (unzipped)
Compatible with any kind of audio software and sampler that handle .wav and standard midi files .mid
The Samples Work With Your favorite DAW & Sampler
Compatible Software / Hardware
The samples in this pack come as .WAV files (24bit / 44.1 kHz) and work perfectly with any kind of audio software and hardware sampler that handle this file type.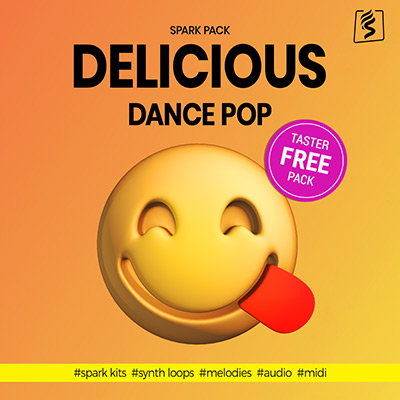 Let's spark some magic
Ever imagined being an alchemist?
As producers and songwriters we are mixers of memories and emotions.
You are sitting in your lab, your studio, your natural habitat, surrounded by all those marvelous tools.
Now you need exceptional substances,raw ingredients, special powders that you can feed to all those magic devices.
Sometimes, when you don't feel it, don't have the right idea, worry about sitting in front of the blank project page, grab one of the Spark Pack's Kits and start playing around with the loops and song ideas to quickly jumpstart your imagination… to fire up your creativity.
Delicious Dance Pop is here to give you this first excitement and to light that spark.
Tab into the zone and get your creative juices going!
The Complete Delicious Series
The Delicious Deluxe
bundle
Feel inspired
Kickstart your songwriting

Play Around With
exciting building blocks

make it yours
Blow Your Listeners Away
The premium spark pack – 100% Royalty-Free
By the way, all the audio and midi material included in the premium
Delicious Dance Pop Spark Pack is 100% royalty-free.
When purchasing the pack or the deluxe bundle you also get the licensing rights to sell or lease your newly build pop & dance banger on beat stores, stream it on Spotifiy, YouTube ect or get placements with major artists.
The First Ratings Are In
Reviews