The First Ratings Are In
Reviews
The No#1 Source Code To Find Your Signature Sound
Wavetable Packs

"I've been building some new leads for my new material out of SparkPackers Serum Packs.
They sound immensely huge!"

"I'm using SparkPackers preset packs for leadsoundlayers. Great stuff!"


"Dope presets and one of my fav go-to packages! "[Serum pack Modern Secrets]

WHY SPARKPACKERS IS DIFFERENT
What SPARKPACKERS
Is All About

Blow Your Listeners Away
Why is SparkPackers so different from all the sound & sample pack labels out there?
The sounds are of extremely high quality to begin with... 100% original & usable sounds... no space-fillers... you get sounds you might would expect from a hardware synth but never have dreamed of getting out of a soft-synth.

Make It YOUR Sound
On the other hand you get sounds that are easy & fun to tweak and to mess around with... not only do meticulous routed macros give you quick access to the most magic elements of each preset...
the Wavetables are custom-build and already pre-processed... they sound awesome right out of the box...
with those tools at your fingertips you don't have to be a white labcoat wearing sound designer to make it YOURS.

Feel Inspired
You are sitting in your studio, your lab, your natural habitat, surrounded by all this great gear, all those plugins.
But now you need some raw ingredients, new material, special powders that you can feed to all those magic devices. Sometimes, when you don't feel it, don't have the right idea, worry about sitting in front of the blank page, the blank project why not start with loops, sounds and samples that jumpstart and stir your imagination... light that creative spark... so you can tap into the zone and find inspiration.
For Xfer Serum
Free Welcome Pack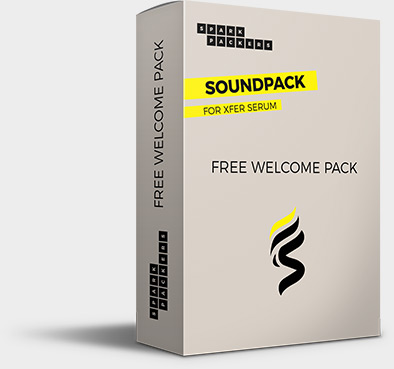 Overview: This Free Sound Pack for Serum comes with 12 euphoric, high-powered Presets and 16 custom-built, pre-processed WaveTables taken from our first two sound packs: Future Tech >> Pop and Army Of Hybrids.
Genre: Electro, Pop, Dance, EDM, Future Bass, Hip-Hop, Trailer & Score
Details: Find out more about it Here.