Wavetable Pack For Serum
Crazy Electric
#crisp #scanlines #magnetic #vibrant #molecules
$12Add to cart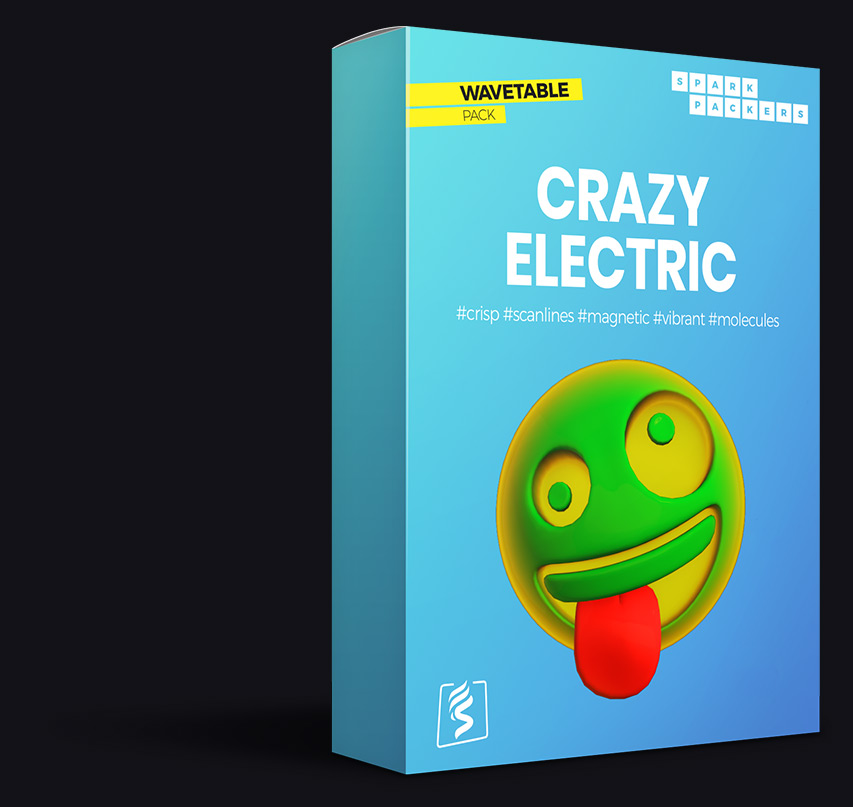 In Action
Let's listen to some Wavetables with the help of our FRAMEWORK PRESET.
Loaded into Serum, I only use one Envelope and a LFO for the scan-through automation. No other internal Serum synthesis is used in the audio demos below. In a few cases, 2-Voice Unison is added and it's commented with (unison) below. Otherwise, you hear the plain and raw Wavetables. With no external EQ, FX or inserts whatsoever.
02: Electric Heat 09 (unison) + Electric Crush 05
04: Electric Crush 04 (unison) + Electric Heat 04
06: Electric Heat 02 + Grainy & Electric 01a (unison)
10: Electric Heat 07 + Grainy&Electric 09 (unison)
WHAT'S INSIDE
Details
Wavetable Files: 75
Size: 171 MB (unzipped)
Format Audio: WAV – 24bit – 44.1kHz / Windows & Mac
Designed for: Xfer Serum v1.214 or higher
Compatible with: Arturia Pigments, Ableton Wavetable, Kilo-Heartz Phase Plant
Creamy Future
Decimated Harmonics
Electric Crush 01
Electric Crush 02
Electric Crush 03
Electric Crush 04
Electric Crush 05
Electric Crush 06
Electric Crush 07
Electric Crush 08
Electric Crush 09
Electric Crush 10
Electric Crush 11
Electric Feedback 01
Electric Feedback 02
Electric Heat 01
Electric Heat 02
Electric Heat 03
Electric Heat 04
Electric Heat 05
Electric Heat 06
Electric Heat 07
Electric Heat 08
Electric Heat 09
Electric Heat 10
Electric Heat 11
Electric Heat 12
Electric Heat 13
Electric Heat 14
Electric Heat 15
Electric Heat 16
Electric Heat 17
Electric Wireframe 01
Electric Wireframe 02
Electric Wireframe 03
Electric Wireframe 04
Electric Wireframe 05
Electric Wireframe 06
Electric Wireframe 07
Electric Wireframe 08
Electric Wireframe 09
Electric Wireframe 10
Electric Wireframe 11
Grainy & Electric 01a
Grainy & Electric 01b
Grainy & Electric 02a
Grainy & Electric 02b
Grainy & Electric 03
Grainy & Electric 04a
Grainy & Electric 04b
Grainy & Electric 05
Grainy & Electric 06
Grainy & Electric 07
Grainy & Electric 08
Grainy & Electric 09
Harsh Wireframe 01a
Harsh Wireframe 01b
Harsh Wireframe 01c
Nagging & Bright
Organ Tek Circus
Particle Stutter 01a
Particle Stutter 01b
Particle Stutter 02
Particle Stutter 03
Particle Stutter 04
Particle Stutter 05
Particle Stutter 06
Particle Stutter 07
Stutter & Shine 01
Stutter & Shine 02
Twisted Scanline 01
Twisted Scanline 02
Twisted Scanline 03
Twisted Scanline 04
Twisted Scanline 05
Bonus
21 Presets for Xfer Serum
The Framework Preset = Ready to play & load pre-processed, multi-cycle Wavetables… easy & hassle-free… with the scan-through automation already in place, grabbing instant synth sounds just by loading Wavetables is super simple
20 Starter Presets = The presets we used for the audio demos on this page… based on the Framework Preset, those presets include the exact speed settings for the parameters Env2 & LFO1 that trigger the Wavetable-scan-through process… they are a fantastic starting point to build your own presets… with all the other internal synthesis and FX untouched, take a leap and go from here… enhance the sound that the loaded Wavetables give you and play around with the scan-through parameters… add filters, warp and all the other wizardry Serum has to offer… tackle the FX section… all with the goal to find a unique sound
Grab instant Magnetic & vibrant Synth Vibes
75 Custom-Built, Multi-cycle Wavetables For Serum And Other Wavetable Synths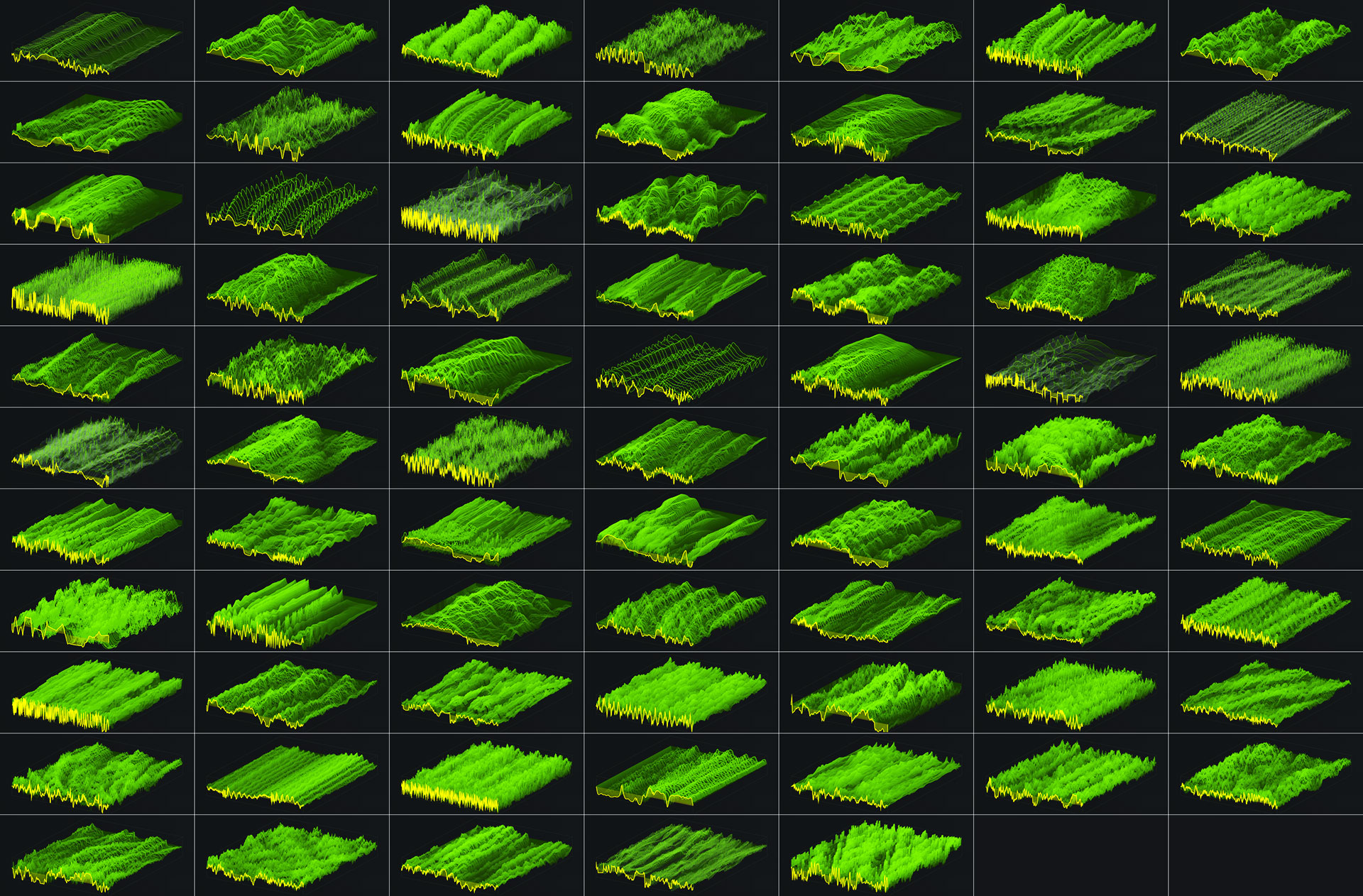 Description
After finishing Analog vs. Digital, I thought it's time to go crazy! Pushing the internal synthesis way further… repeating the render and resample process – every now and then, multiple times.
My goal was to create crisp scanlines and magnetic, vibrant molecules that stick out and cut through the noise. Wavetables that are ready to electrify and to make an impact.
The opposite of lame & generic is Crazy Electric.
A First Taste
Wavetables In Action – Part II
11: Electric Wireframe 03 (unison) + Electric Crush 07
12: Electric Heat 09 + Electric Wireframe 01b (unison)
13: Electric Heat 07 + Electric Wireframe 11 (unison)
14: Twisted Scanline 01 + Grainy & Electric 08
17: Grainy & Electric 04a
20: Particle Stutter 06 + Electric Wireframe 10 (unison)
recommended for you
you may also like these
Analog vs Digital
The fun started when I began to process those strings of analog DNA further with all the wizardry a great synth like Serum has to offer: applying digital synthesis (using Warp, FM, Filter, …) and then rendering and resampling those
into new multi-cycle, pre-processed Wavetables.
Nasty, dirty movements… modular, warm vibes… a whole bunch of saw fractals… vibrating molecules. As a result you get the best of both worlds: analog, digital, hybrids and mashups. With Analog vs. Digital you'll find no losers…. only winners and champions!
Raw Power
Ok, this pack is dynamite! When equipping your favorite Wavetable synth with those larger-than-life sounds, be ready to – boom! – punch your muse in the face. Too graphic? Nah, then this pack isn't for you.
Naming those Wavetables was the most fun and easiest part in months. You'll find: Digital XXLs, Epic Blasts, Huge Scanlines, Knockouts and Powermoves. And the best: they are suitable for every genre. Rock and spice up your production.
Again, this one is a beast!
Digital XXL 11 + Knockout 03 (unison)
Epic Blast 07 + Epic Blast 05 (unison)
wavetable bundle
There is also a timely-limited bundle offer available.
Grab all 6 Wavetable Packs for an unbeatable deal.
Details: 465 Wavetables. 125 Serum Presets. Total 1,14 GB.

add-on: Spark Pack mini
extra content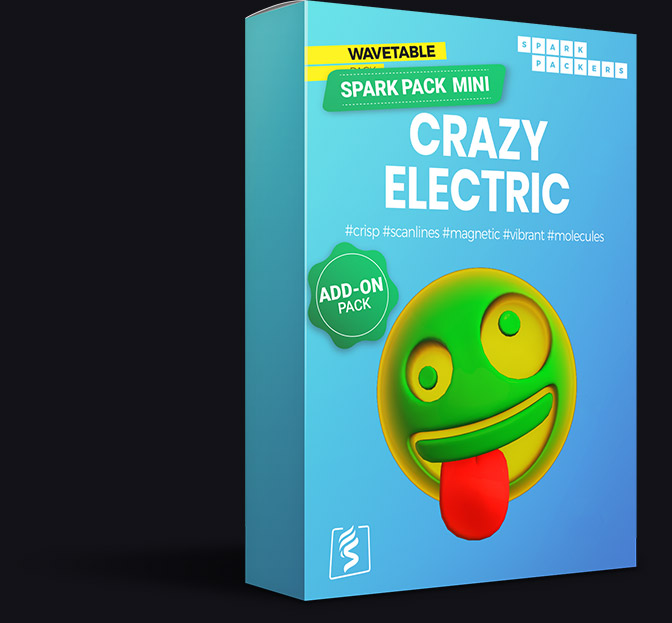 Do you love the audio demos for Crazy Electric on top of this page and want to use them as inspirations and song starters for your own productions? Awesome. All the audio tracks – let's call them Spark Tracks – are included in the Crazy Electric Add-On pack. You will receive those track ideas as audio and midi files.
Here is what you get as additional content:
Audio: 20 Spark Tracks / WAV – 24bit – 44.1kHz / Windows & Mac
Midi: 20 Standard Midi files
Size: 72 MB (unzipped)
100% Royalty-Free
THIS ADD-ON WORKS WITH ANY DAW / SAMPLER
Compatible Software
The Mini Spark Tracks and Loops come as .WAV files (24bit / 44.1 kHz) and work perfectly with any kind of audio software that handle this file type. The included Standard MIDI files are ready to get imported into your favorite software as well.