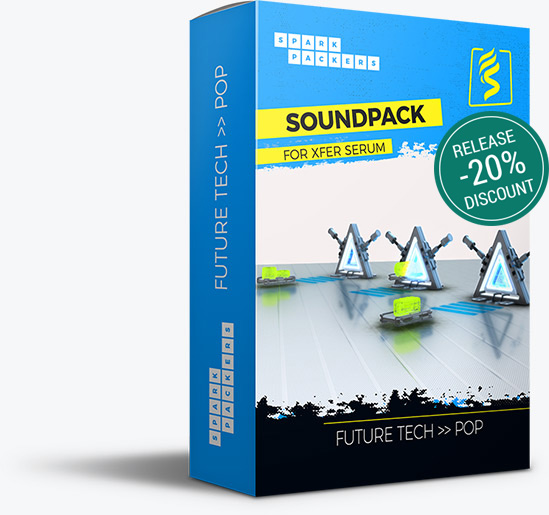 Serum Pack
FUTURE TECH >> POP
Who said Serum can't do beautiful warm, commercial and chart-ready pop sounds?
If you are looking for yet another aggressive and wobbly LFO-driven dubstep or trap serum pack with screeching, growling drone sounds, this one isn't for you.
Future Tech >> POP is here to equip you with sounds that transport emotions and inject feelings into your modern EDM or pop track!
This Serum Pack contains 100 highly-recognizable BRASS, CHORD, LEAD, ORGAN, PLUCK and BASS sounds, ready to make your listeners jump up and down. Upgrade your sound arsenal with colorful and stunning presets that are tailored to push your production to the next level – to beam your track into the future!
With a focus on euphoric and electrifying synth sounds I promise you: you won't find any space fillers… every single preset in this pack is a star! Gain access to presets no one has ever heard before… presets that help you get discovered in the crowded, noisy world of music production.
So, once again – who is this versatile, genre-bending Serum Sound Pack for?
It's for the mavericks… for the modern songwriters who love to feel inspired by playing around with intruiging and versatile sounds.
It's for you producers who love to tweak presets in order to find YOUR signature sound… fast and effortlessly… without interrupting the flow…
It's for everyone who wants to stay competitive tomorrow.
The fun begins with FUTURE TECH >> POP.
Arm yourself with striking and colorful pallets of sounds that make your audience weep and excited.
Be one step ahead. With sounds that lead tomorrow…
Ready for the future?
*** Intro Price: 39€ / Regular Price: 49€
*** 20% RELEASE DISCOUNT Until Thursday, August 29th
*** PLUS BUNDLE DEAL: Get Your 2nd Pack for another 25% off (shows up in cart)