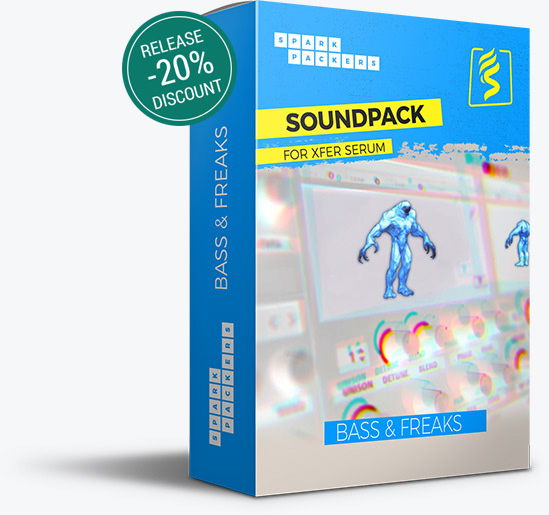 Serum Bass Presets & more
BASS & FREAKS
Who wants to be normal, right? If you want to make an impact: Stick out! Be a freak!
That was what I had in mind when creating this pack.
I promise you: These Serum Bass Presets won't bore you with the same generic and lame sounds we hear over and over again. If you are looking for larger-than-life presets that cut through the noise and spice up your production… you are at the right place.
Meet BASS & FREAKS. Loaded with 78 bold & powerful BASSES, 16 exhilarating SYNTHS/CHORDS and 6 spine-tingling LEADS, this pack is the outlier, the mutant, the outlaw in the world of soundsets.
More...Less...
I started by sculpturing sounds with some of your favorite analogue synths… put them through some nasty, high-end output gear… only used the best pieces of meat… transferred snippets into Serum… used all the magic tools: warp, render, sync, re-sample… and repeat. As a result you'll get 104 bad-ass, unique, custom-made WaveTables… ready to punch your muse in the face!
Synthesizing these WaveTables, BASS & FREAKS features 100 innovative and progressive Serum Presets: full of gritty low-end, mashed up with twitchy mids and otherworldly highs… an unconventional collection of sounds you won't find anywhere else… always playable, usable… and inspiring!
Between safety and adventure, choose adventure and tap into uncharted territory. Equip your sound arsenal with cinematic-sounding & trailer-moment presets!
Do you want to stand out?
Break away from the pack with this completely new breed of high-powered bass and synth sounds!
Be different!
Be extraordinary with BASS & FREAKS!
*** Your 20% RELEASE DISCOUNT has already been applied