Upgrade Your Order And Safe
Special Bundle Deals
DEAL A) Pay 2 Get 3 Wavetable Packs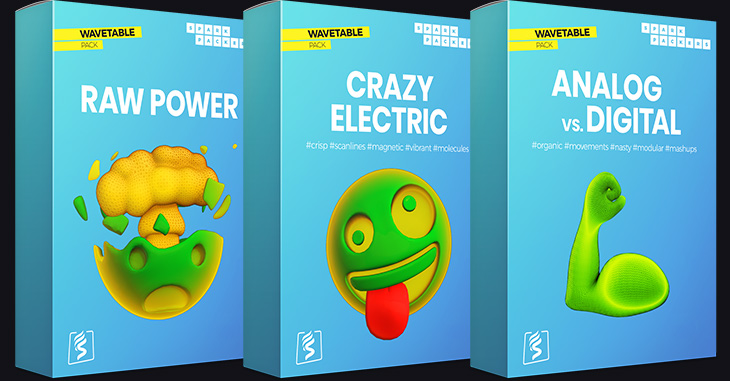 What's Inside This Bundle?
The Additional Packs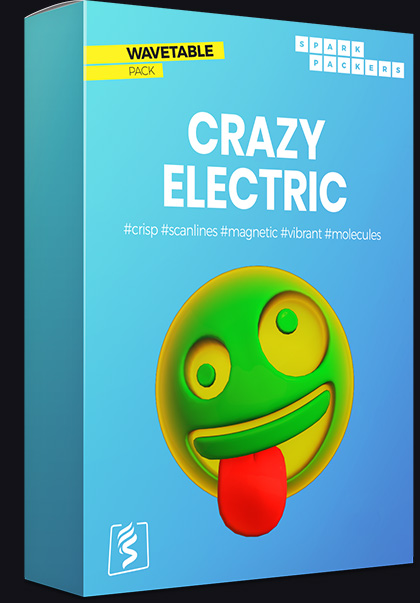 Crazy Electric
After finishing Analog vs. Digital, I thought it's time to go crazy! Pushing the internal synthesis way further… repeating the render and resample process – every now and then, multiple times.
My goal was to create crisp scanlines and magnetic, vibrant molecules that stick out and cut through the noise. Wavetables that are ready to electrify and to make an impact! The Opposite of lame & generic is Crazy Electric.
Wavetables: 75
Starter Presets For Serum: 20
Size: 170 MB
17: Grainy & Electric 04a
Analog vs Digital
I had borrowed all this amazing analog hardware gear from friends and colleagues to finish a project. I dreaded the day I had to return all those synth beauties. So I started to sample all the sounds and patches I had programmed and put my heart into.
The fun started when I began to process those strings of analog DNA further with all the wizardry a great synth like Serum has to offer: applying digital synthesis (using Warp, FM, Filter, …) and then rendering and resampling those into new multi-cycle, pre-processed Wavetables.
With analog, digital and hybrid Wavetables this pack is full of winners and champions and complements this bundle perfectly. You'll have all the ingredients you'll need to find YOUR sound right at your fingertips!
Wavetables: 80
Starter Presets For Serum: 20
Size: 147 MB
Vibrating Molecule 4 + Nasty Modular 1 (unison)
Crisp Future Sync 2 + Nasty Modular 4b (unison)
Vintage Feedback 2 (unison) + Nasty Modular RAW 5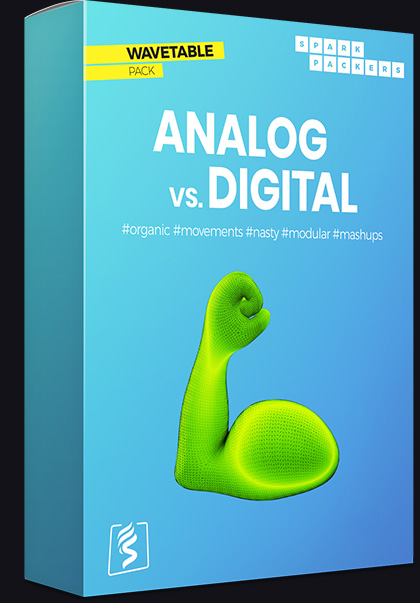 One Time Offer
Pay 2 Get 3 Wavetable Packs
230 Wavetables
63 Starter Presets for Serum
501 MB (unzipped)

B) Deal A + DELICIOUS KICKS

What's Delicious Kicks?
The Additional Sample Pack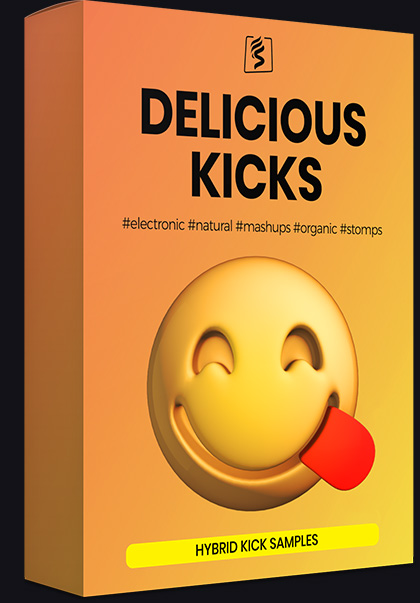 Hybrid Kick Samples
Are you looking for unique, charismatic Kicks that stick out and stay in your listener's ear?
Let me give you memorable Bass Drum samples you actually want to use and make your entire production highly recognizable!
My goal was to close the gap between the well-known and average digital-sub-with-click-on-top Kicks and those perfect Bass Drums you find in songs on your favorite Spotify playlist.
I went on this quest to create unique 3-dimensional Kicks from scratch by combining electronic drum sounds with flavorful natural colors and outstanding elements extracted from live-recordings.
As a result you get 140 distinctive Hybrid Kicks full of character and personality. Ready to cut through the noise!
Samples: 140 different, custom-built Kick Drums
Type: Single, One Shot Samples
Genre: Hip-Hop & Beats, EDM, Pop
Format: WAV – 24bit – 44.1kHz
Size: 52 MB
Kick_09_var_1_(F) | Kick_11_var_1_(A) | Kick_14_var_4_(G) | Kick_24_var_1_(F)
Kick_14_var_2_(F#) | Kick_23_var_2_(A) | Kick_26_var_1_(G) | Kick_39_(G#)_pre_20ms
Kick_05_var_1_(G) | Kick_06_var_1_(D#) | Kick_52_(F#) | Kick_78_var_1_808
Kick_14_var_2_(F#) | Kick_14_var_1_(A) | Kick_24_var_3_(G) | Kick_25_var_1_(G)
Kick_14_var_2_(F#) | Kick_66_pre_2ms | Kick_14_var_1_(A) | Kick_33_var_1_(F)
Kick_15_(F#) | Kick_14_var_4_(G) | Kick_16_var_2_(G) | Kick_11_var_2_(G)
One Time Offer
Tasty Lo-Fi & Kicks Bundle
230 Wavetables
63 Starter Presets for Serum
140 Kick Samples